Capacity is from 0,5 to 200 m3/h
Output differential pressure is from 6 to 24 bars
Drive power is from 0,75 to 55,0 kW
Rotor speed is from 78 to 578 rpm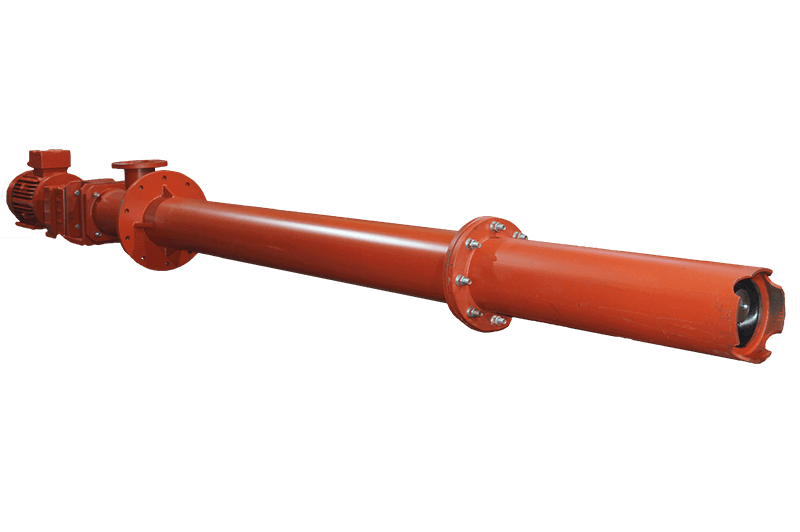 Belgorod Hydromechanical Plant is a Russian manufacturer of SP-V series vertical pumps for such industries as oil and gas, chemical, food, mining, pulp and paper, etc., as well as in metallurgy and sewage treatment plants. Our pumps are used to perform tasks for pumping viscous, highly viscous, chemical, multiphase, abrasive and gas-containing media. The SP-V series screw pumps are indispensable for pumping various media, with and without inclusions, from various tanks and reservoirs, tanks, underground lakes and wells. And also, for such non-standard tasks as the elimination of technological spills of the environment. The versatility of the system of SP series pumping units combines many of the positive properties of other types of pumps:
it does not have suction and pressure valves - valveless design;
the rotor speed is proportional to the feed rate at a stable pressure;
the possibility to change the direction of fluid flow (when equipped with a special geared motor as agreed with the customer);
it has self-priming ability up to 8m;
it pumps inhomogeneous, gas-containing and abrasive media, such as those with strong and fibrous substances with a consistency incapable of fluidity;
it pumps highly viscous media;
possibility of use for dosing;
it does not foaming the pumped substance;
it operates with different angles.
When choosing screw pumping units, the main advantages are the following factors:
a pump unit is able to pump multiphase mixtures without destroying their structure;
there is no disruption of supply, as well as refraction in the pressure characteristics with decreasing or increasing speed - smooth operation with reduced performance;
the work with different angles of inclination in planes does not affect the performance of the unit;
reliable seals in the absence of any leaks;
high turnaround time of the main working units;
pumps do not cavitate when passing air and gas plugs;
low power consumption when performing similar tasks in comparison with other pumping equipment;
rotational speed is minimal which increases the service life of the pump unit;
high maintainability, no need to leave the special service of the manufacturer;
the ability to control performance at constant pressure;
low noise.

The designation structure of the SP-V series PC pumps
SP
|
1
-
V
|
2
-
38
|
3
-
01
|
4
.
SS
|
5
.
01
|
6
(Ex)
|
7
SP – manufacturer's labelling

H – vertical layout of the pump unit

Rotor Diameter
Stator and rotor geometry
Design option:
S – common industrial;
SS – stainless steel.

Type of the shaft seal:
01 – single mechanical seal;
02 – double mechanical seal;
03 – double mechanical seal API;
04 – serviced gland.

Explosion-proof drive